DECEMBER 2017 | FOOTBALL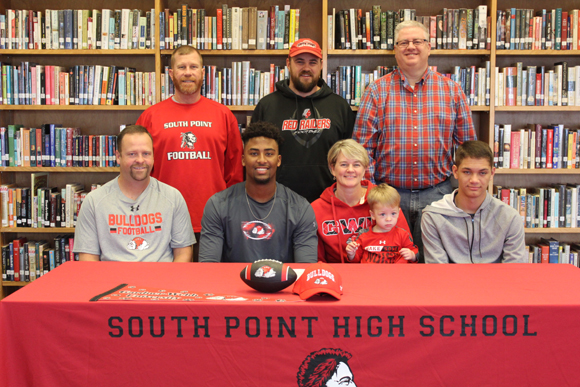 Robinson signs with Gardner-Webb — South Point senior Matthew Robinson, front row, has signed a national letter of intent to play football at Gardner Webb University. Front row, from the left, are this father, Terry Robinson; Matthew; his mother, Angie Robinson; his brother, TJ Robinson; and his brother, Micah Robinson. The back row, from the left, are South Point athletic director Kent Hyde; head football coach, Adam Hodge; and South Point Principal, Gary Ford.
---
NOVEMBER 2017 | FOOTBALL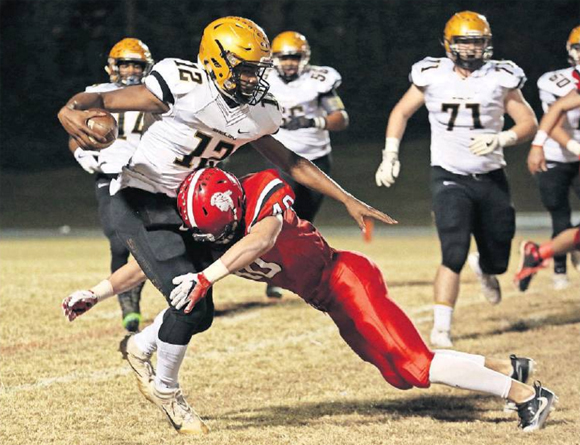 South Point 23, Shelby 33 — Shelby High's history of playing its best football in November continued on Friday night in an upset playoff win at South Point.

Facing the top-ranked 2A team in the state, the Golden Lions downed previously unbeaten South Point 33-23 at Lineberger Stadium.

The victory extended Shelby's school-record playoff winning streak to 22 games. And the Golden Lions (10-2), who have won N.C. 2A titles in 2013, 2014 and 2015 and the N.C. 2AA title in 2016, will visit Mount Pleasant in next week's Western N.C. 2AA semifinals.
---
NOVEMBER 2017 | FOOTBALL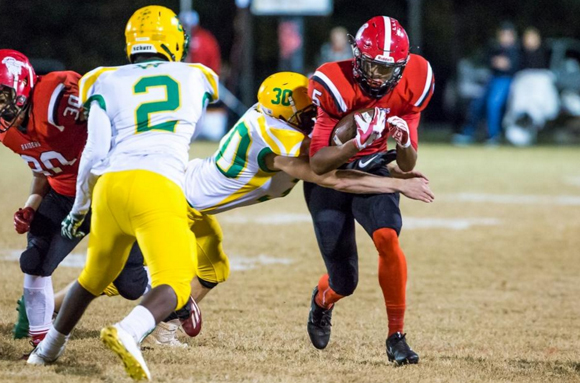 South Point 48, West Iredell 0 — It wasn't long into South Point's 48-0 first-round victory Friday against West Iredell that the inevitable rematch with Shelby came into focus.

The Red Raiders earned a second-round showdown with Shelby as they opened defense of their state title with a crushing first-half performance against overmatched West Iredell (5-8), the fourth-place finisher in the Northwestern Foothills 2A.

"If you're doing something that's working, you don't change anything," said quarterback Scottie Lee, whose team scored touchdowns on its first six possessions. "We came to the sidelines and put our heads together. We kept fighting and never relaxed."
---
NOVEMBER 2017 | FOOTBALL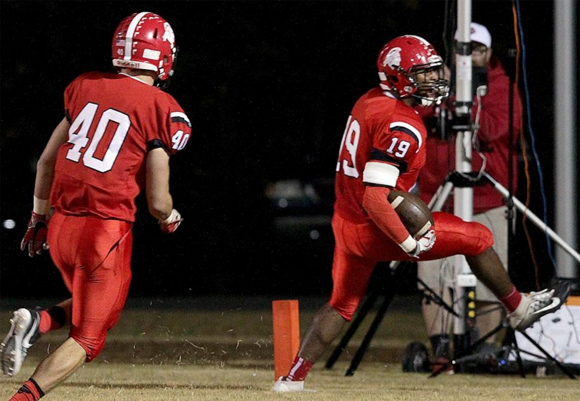 South Point 35, Shelby 15 — On one of South Point's first offensive plays Friday night, left tackle Larry Dowdy and Shelby linebacker Dax Hollifield hit each other and got tangled up for an extra moment or two after the whistle blew.

It wasn't a dirty play, there was no late hit by either player and no flags on the play. In most ways, it was a forgettable snap. But it indicated something important for South Point early in the game. Things wouldn't be the same as they were last year. South Point was not about to get physically outmatched, and the Red Raiders were not intimidated by the four-time defending state champion Golden Lions.

"The coaches have been telling us all week that we need to be physical and play until the whistle blows," Dowdy said.
---
NOVEMBER 2017 | JV FOOTBALL
JV South Point 33, JV Shelby 14 — The JV South Point football team finished the year 8-2 and undefeated in conference play as they dispatched the Golden Lions on their home field Thursday night.
---
OCTOBER 2017 | FOOTBALL
South Point 69, Chase 0 — The South Point football team continued its domination of Rutherford County teams in 2017, drubbing Chase 69-0 on Friday night at Allen Stadium to move to 10-0 overall and 4-0 in Southwestern Conference play.
---
OCTOBER 2017 | FOOTBALL
South Point 62, R-S Central 0 — R-S Central gave away the pigskin three times in the first half and had no answer for South Point's option offense as the Red Raiders easily won 62-0 on Friday night.

Remaining undefeated wasn't even an issue on Friday as the a running clock took place all through the second half. South Point rushed for 391 yards, while giving up just under 150 yards overall.

Ray Grier scored three times on all three of his first half catches from Red Raider's quarterback Scottie Lee (114 passing, 29 rushing) as South Point (9-0, 3-0) led 49-0 at the break.
---
OCTOBER 2017 | FOOTBALL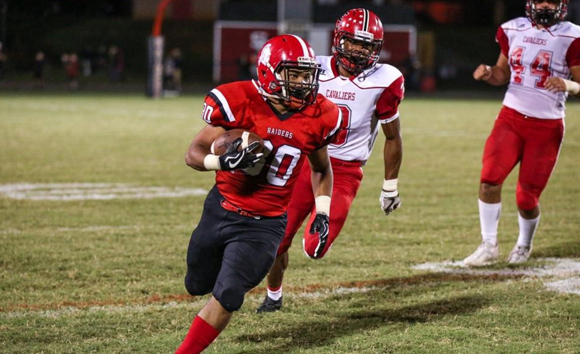 South Point 55, East Rutherford 7 — South Point set a school record for consecutive wins Friday night in a 55-7 homecoming win over East Rutherford that looked a lot like many of their previous wins in a streak that began in the middle of last season.

It's because much of the Red Raiders' current 18-game winning streak has followed a similar script: Get ahead early, force the opponent into mistake after mistake and use a balanced offense to take an easy victory.

"We're always looking to improve," first-year South Point coach Adam Hodge said. "And we improved some more tonight but we know we have to keep getting better."

The Red Raiders improved to 8-0 overall and 2-0 in the Southwestern Athletic Conference as the No. 1 ranked N.C. 2A team in the state surpassed the 17-game winning streak of South Point teams in the 2003 and 2004 seasons.
---
OCTOBER 2017 | FOOTBALL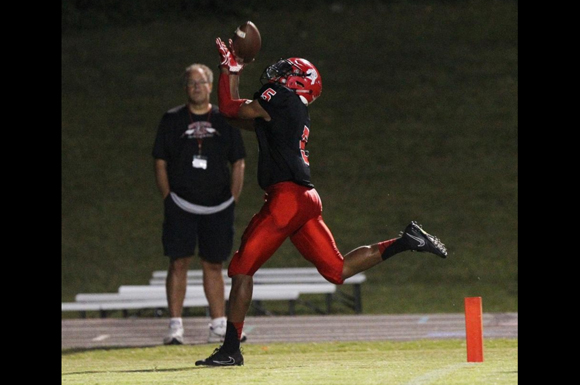 South Point 56, East Gaston 0 — Scottie Lee's 58-yard touchdown run got South Point started and the Red Raiders never let up on a warm, moonlit Friday evening, crushing cross-town rival East Gaston 56-0 at Lineberger Stadium.

South Point (7-0), the defending 3A state champions now playing in the 2A class, moved to 1-0 in the Southwestern Conference opener for both teams.

Sophomore wideout Ray Grier caught two first-half touchdown passes for the Raiders and had four receptions for 114 yards, while Lee completed six passes in nine throws for 141 yards and the two scores to Grier.

"He had a big night," Red Raiders first-year coach Adam Hodge said of Grier, who also scored on a second-quarter punt return and had a return of 40 yards early in the third. "He needs to be a big-time player [for us]. He was tonight."
---
OCTOBER 2017 | FOOTBALL
Coach Biggerstaff honored for inclusion in NCHSAA Hall of Fame — Former players, coaches, and family of Jim Biggerstaff joined "our coach" on the field before the East Gaston game to honor him for his induction into the NCHSAA Hall of Fame. Members of the NCHSAA were on hand and the official induction ceremony will be held in Cary, NC in April 2018. Congratulations Coach Biggerstaff!!!
---
OCTOBER 2017 | FOOTBALL
Nichols Named Scholar-Athlete of the Year — The Salvation Army Boys & Girls Club of Gaston County is pleased to recognize Riley Nichols, senior offensive lineman, as our 2016-17 Gaston County Charlie "Choo Choo" Justice Scholar-Athlete of the Year Award recipient.
---
SEPTEMBER 2017 | FOOTBALL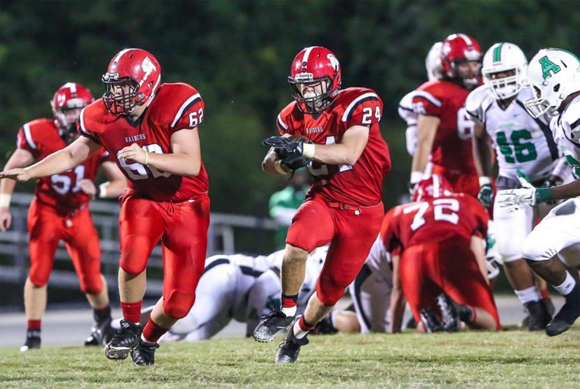 South Point 35, Ashbrook 13 — When Jake Alexander was giving his postgame media interviews after South Point's win over Ashbrook on Friday night, some of his teammates popped in to grab a quick selfie with the senior running back.

"We won't be satisfied until we're 16-0," Alexander said as offensive linemen Ethan Jackson, Victor Hernandez and Riley Nichols surrounded him. Jackson extended his arm with phone in hand and smiled for the iPhone camera.

Alexander deserved the paparazzi treatment — and the offensive line deserved to have a little bit of fun — after a hard-hitting and physically taxing 35-13 victory over the Green Wave.

---
SEPTEMBER 2017 | FOOTBALL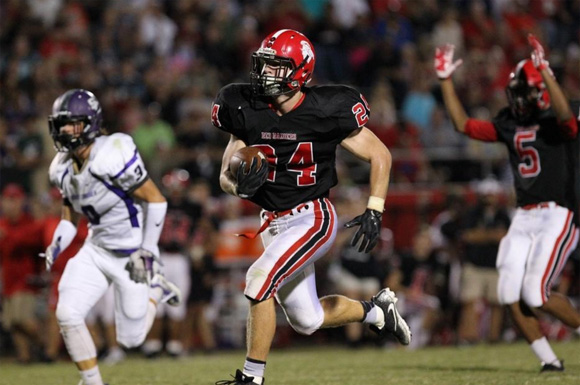 South Point 41, Stuart Cramer 14 — With 7:48 left in the third quarter, Stuart Cramer had the breakthrough.

Quarterback Luke Carpenter hit tight end Kendall Karr in stride down the sideline for a 79-yard touchdown pass, and after three-and-a-half scoreless games, the Storm had their first touchdown against rival South Point.

South Point had built a 21-0 lead before that touchdown, but suddenly everything was going Stuart Cramer's way. On the ensuing kickoff, the Storm recovered a fumble, and they were on the march again, looking to cut it to a one-score game.

---
SEPTEMBER 2017 | FOOTBALL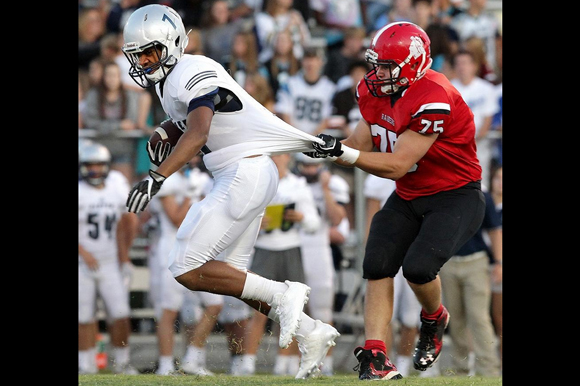 South Point 28, Clover 0 — South Point's home opener on Friday served as a rare chance for a North Carolina high school team to flex its muscles against a team from South Carolina.

And the defending N.C. 3A state champion Red Raiders rolled to a 28-0 win over Clover, S.C., to end the Blue Eagles' seven-game winning streak against teams from North Carolina.

It came just six days after Clover had beaten Hunter Huss 42-41 in an overtime thriller last Saturday that was witnessed by South Point's coaching staff.

"When we saw them play Huss, we knew they were a good football team because we know Huss is a good football team," first-year Red Raiders coach Adam Hodge said. "It was a great challenge for us and I'm proud of how we played."

---
SEPTEMBER 2017 | FOOTBALL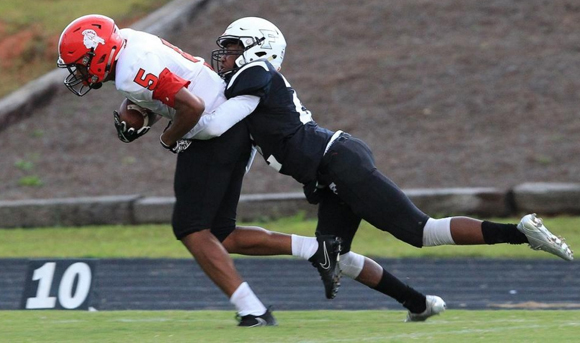 South Point 42, Forestview 0 — South Point senior Matt Robinson was a freshman on the junior varsity team when Forestview last beat South Point. In that 2014 game, the Jaguars came into Belmont and ended a five-year Raider unbeaten streak in the Big South Conference.

Robinson and the other freshmen were watching from the sidelines, studying their positions as Forestview came away with a 34-31 overtime win.

"I was just watching how intense it was. That was Tanner Muse's senior year. He was getting the defense pumped up. Moe Neal was getting (Forestview's) offense pumped up. It was just a battle, it came down to the trenches, they just finished stronger," Robinson said. "That pushed us this year."

In the three years since that game, those JV freshman watching from the sidelines have grown up into senior leaders for this year's Raiders — and they've done their part to atone for that loss.

---
AUGUST 2017 | FOOTBALL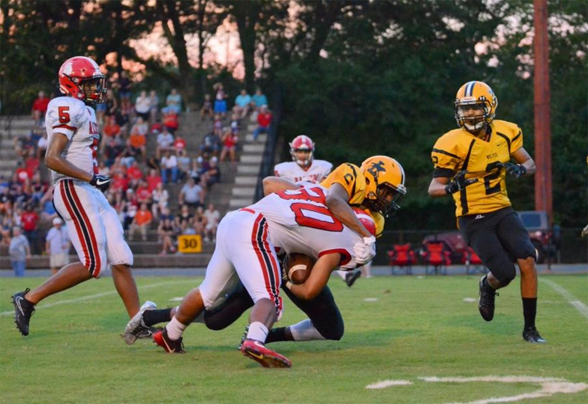 South Point 59, Lincolnton 6 — The Red Raiders rolled into Lincolnton Friday night with momentum on their side. The defending 3A state champions were coming off of a 22-14 win over Crest, and were looking to avenge last year's 25-24 overtime loss to the Wolves.

South Point played nearly flawless, taking advantage of four Lincolnton turnovers and great field position throughout the game to pick up a 59-6 win in their second straight road game to start the season.

"I got on them last week'" said South Point head coach Adam Hodge. "I didn't think we played as good as we should have (against Crest)"

---
AUGUST 2017 | FOOTBALL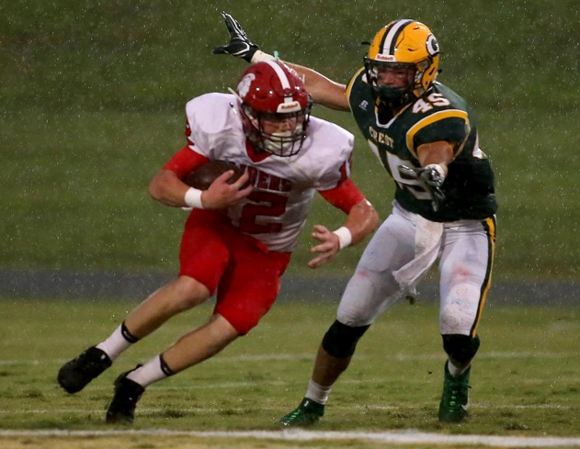 South Point 22, Crest 14 — The toughest opponent for both the Crest Chargers and South Point Red Raiders Friday night proved to be the weather.

In the end, South Point held on for a 22-14 win in a contest that didn't end until after 11:30 p.m

The pre-game hype had mostly to do with the two new head coaches in the contest. Adam Hodge had taken the reins following Mickey Lineberger's retirement following South Point's state championship season. Nick Eddins accepted the job at Crest in the spring following Will Clark's departure.

Yet before the first half was even completed between the two perennial football powers, there had been three delays due to lightning. The large crowd at Sid Bryson Stadium was expecting to see some top-level high school football but a driving rainstorm in the first quarter, as well as the delays, put a damper on the proceedings.

---